SO. Finally got Part One of my order. I should get Part Two tomorrow. I also got my Yuna pendant and ring that I got off Ebay, so squee. What did I get in this order? WELL...
I got Rikku and Paine action figures. Makes me a little sad as I was hoping to get Dagger and Rusty first, but eh. I'll get Yuna and Dagger and Rusty tomorrow. I also got all three of my YRP!Pins, which are ADORABLE they're all chibi and cute <3 I got a Sango pin too, which is also very adorable. I got the FFIX complete soundtrack. And it was Japanese which I wasn't expecting, but it's cool, I just have no idea what the names of the songs I'm listening to are. (Other than Melodies of Life and all the ones I already know. o_o) Then I now have a complete set of FFIX keychains. (XD) aaand... A Zidane Wallscroll. I'm quite happy that was the first thing they sent me.
....And because I'm such a silly person, I took pictures. Zidane figured before Dagger and Yuna and Rusty arrive tomorrow to spoil all the fun, he'd do a little 'partying' XD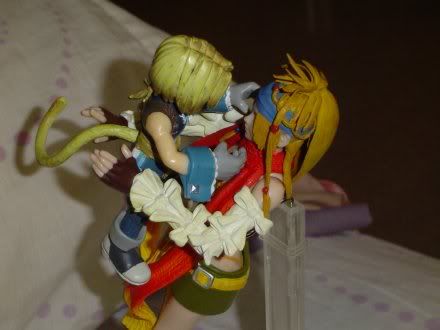 Zidane and Rikku get to know each other better. *Keff*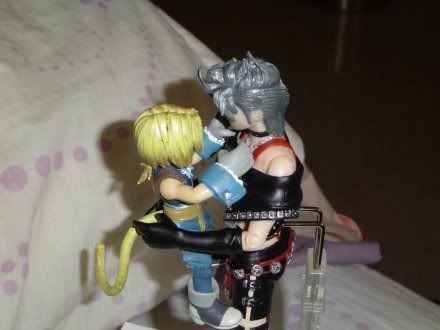 ...And Paine seems fond of him.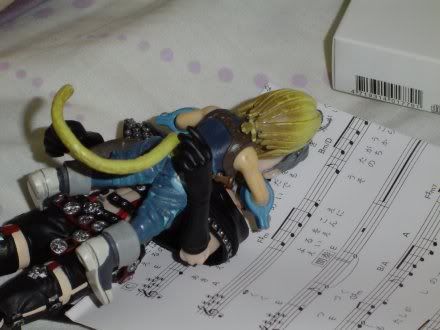 .........Very fond.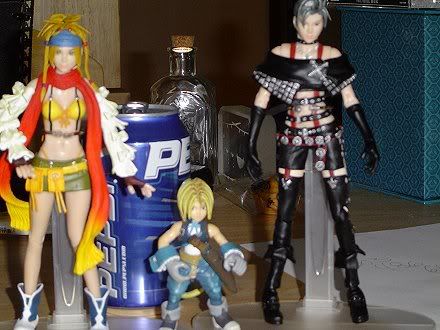 ..Here we be pimpin. Oh yeah. Ignore the Pepsi can.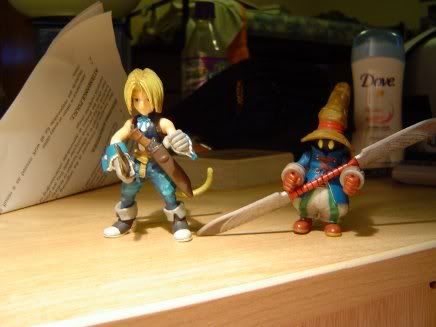 This was taken a few days ago, but I figured I'd toss it in since it was on my HD and I didn't take any pictures of Vivi with the girls.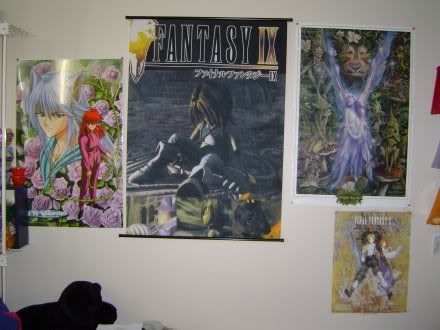 The wallscroll on my wall. I swear I didn't think it would be this big, but it totally makes me glee. I <3 it so.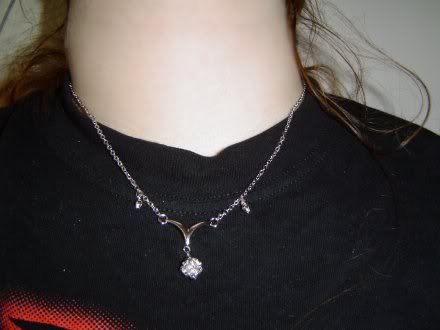 Yuna pendant. I'm totally loving it. It's so pretty. *__* Pic obviously doesn't do it justice.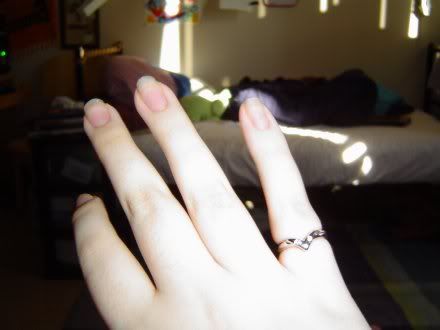 And the Ring that came with it. Fwee.
...Tee hee. I am a geek. Rikku and Paine came with weapons. What fun. My roommate was making cheap action-figure porn with Rikku earlier. She found it fascinating that she was wearing a thong, and that the skirt was impossibly short. XD